TITAN Cementara Kosjerić presented awards to the best projects in the contest "For My Kosjerić". The competition received 31 applications, 15 of which will have the opportunity to realise their ideas. The total amount of allocated funds is more than 27,000 euros.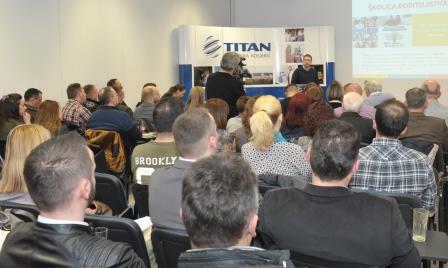 Miroslav Gligorijević, General Manager of TITAN Cementara Kosjerić, congratulated the winners and expressed his gratitude to all the participants: "The competition "For My Kosjerić" is an important part of our sustainable development policy, implemented in cooperation with all the local authorities and institutions, thereby supporting the involvement of citizens, networking between organizations, and the development and use of local resources. The budget, which this year exceeds 27,000 euros, will enable the implementation of projects in line with our corporate values and the strategic development of the Kosjerić municipality, those that directly affect the sustainable development of the key areas in the local community. We are sincerely committed to having a responsible impact on the environment and the development of the town in which we live and work. We strive to achieve good results based on the principles of trust, transparent communication and well-known values."
The jury, formed of representatives of the company and the local community, awarded the following projects in the field of culture: "Incubator Center for Education" of NGO Ko.AKTIVA, the 14th International Art Camp "BalancEcho" of K-Town Group Association of Citizens, "Echoes – Life and Work of Liza Marić Krizanić", the Kosjerić Tourism and Sports Organization, "Students' Treasury" by the Teachers' Association, and the Folklore Festival "Little Peasant Shoe" of the Cultural and Artistic association "Maksim Marković". In the field of ecology, the winners are: "Arrangements and Improvement of the Environment" of the local community of Radanovci and "Revive Our Forests 2017" by the Kosjerić Hunting Association. In the field of education, the awards went to: "Apieducation" of the Miladin Zarić – Mišo Beekeepers' Association, "Avalon" of the NGO Ko.AKTIVA, "Corner for a Children's Moment", a joint project of the Elementary School "Jordan Đukanović" on Varda and the Preschool Institution "Olga Grbić", the "Nucleus 21" project of the Mito Igumanović Primary School, "10th Children's Summer Camp" of the "Subjel" Mountaineering and Environmental Association and "Little Sports in the Kindergarten" by the "Olga Grbić" Preschool Institution. In the field of social protection and inclusion, the winning entries were: "The Pen Writes with the Heart, the Soul Draws with the Hand" by the Club of United Pensioners and "Workshops for PWD in the Municipality of Kosjerić", organised by the SOS-KOS Association of Volunteers.
Last year's winners of the competition "For My Kosjerić" presented their achievements and results of the projects, encouraging citizens and organisations to get involved and use their ideas for the improvement and development of local communities.