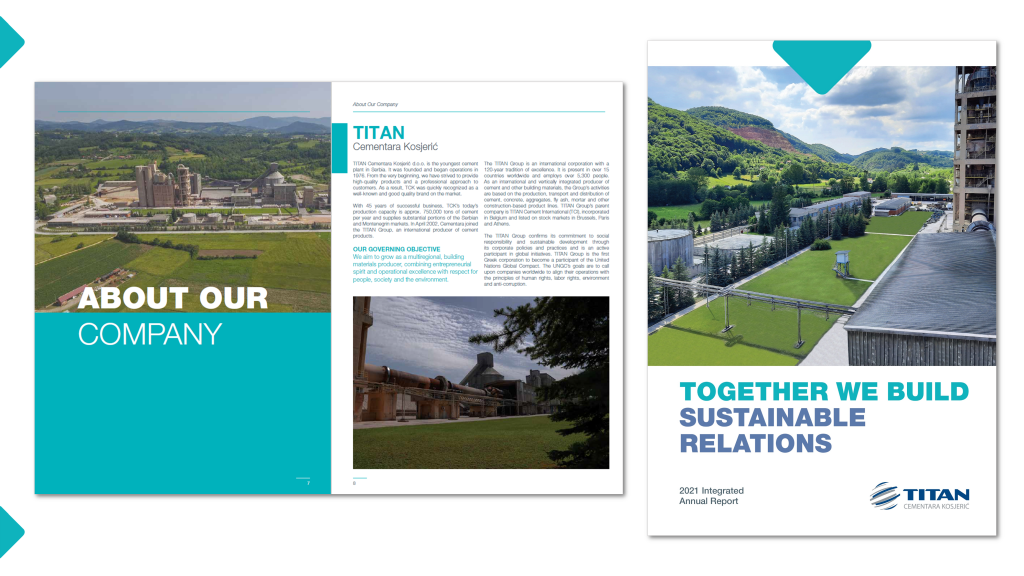 TITAN Cementara Kosjerić published its 2021 Integrated Annual Report, which outlines Company's consolidated financial results, as well as environmental, social and governance (ESG) performance.
The Report was prepared in accordance with international reporting standards, and consistently confirms the Company's commitment to sustainable business growth with respect for people, society and the environment.
TITAN Cementara Kosjerić 2021 Integrated Annual Report is available here.
With the increased demand for cement on the domestic market and the constant monitoring of operating expenses, we closed the year with good results – consolidated turnover increased by 7.4% and we had an increase of consolidated EBITDA of 6.7%, in comparison to 2020.
In 2021, we produced nearly 600,000 tons of cement while maximizing our contribution to environmental protection. For years now, our emission values have been far below legally prescribed limits. Nevertheless, we have invested in the installation of a bag filter on the kiln and raw mill which has resulted in further reducing already low emission parameters by nearly half of the values registered in 2020.
The 2021 Report has been verified by independent auditors from Grant Thornton Serbia, for Advanced Level, in accordance with the Communication on Progress of the UN Global Compact.