TITAN Cementara Kosjerić responded to the invitation of the elementary school "Jordan Đukanović" from Varda and provided its 4th to 9th grade pupils, who participated in district competitions during the current school year, with a one-day trip to this year's 16th Science Festival, held at the beginning of June in Belgrade.
The pupils and their teachers visited the famous scientific event, organized in Ada Ciganlija, where the adventure of discovering miraculous phenomena from various fields of research and knowledge took place. Through games and fun content, adapted to school age, young visitors entered the dynamic and interesting world of technological innovation that surrounds them from an early age. This is the reason why, on this occasion, pupils were introduced not only to programming, but also to robotics, exciting algorithms and the engineering mindset. They learned how to distinguish between numerous similar animal species, as well as assessing what is good and what is bad in human behaviour towards the environment. These lessons are meant for all generations because we must learn together to preserve nature and to take care of the environment we are leaving for the future to come.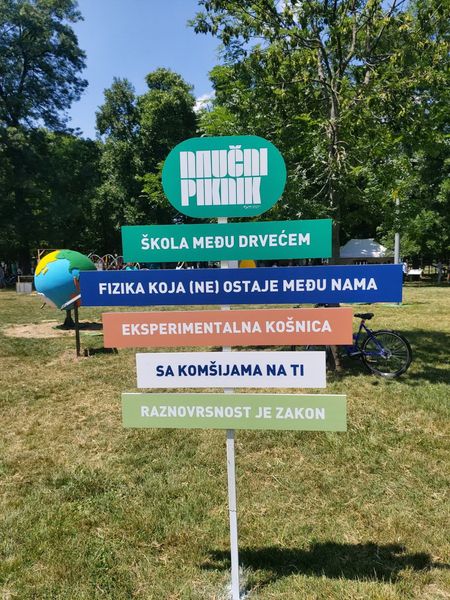 In the attractive festival programme, special attention was drawn to the Lego corner, where an entire magical world was located, built from popular blocks many generations have grown along with. On the playground like fairy tale, true copies of well-known buildings were assembled, combined with other original ideas and creative solutions that delighted the audience.
Through interactive involvement, pupils presented scientific formulas and laws of physics, and the organizers responded to their knowledge with entertaining experiments; and all that with lots of colourful balloons, playful salt enjoying music and good company, attractive animations and unusual scientific effects.
After being introduced to scientific challenges, the pupils from Varda took a break in the Japanese Garden and the Greenhouse of the Jevremovac Botanical Garden, where they learned about unusual plants all over the world. This completed the educational trip, dedicated to the promotion of learning and education, as well as the socially responsible concept that TITAN Cementara Kosjerić supports in its business operations and relationship with the community.