Recognizing and celebrating excellence in Safety Performance across Southeastern Europe
​Regional Health & Safety awards remind us of the collective efforts to sustain a safe workplace for all our employees and contractors.
On February 2nd, at a celebratory ceremony that took place in Athens, the colleagues had the opportunity to receive awards for contributing with their ideas and their execution in strengthening further TITAN's long tradition in health and safety.
An event was organized and broadcasted to more than 200 colleagues across Southeastern Europe to celebrate:
Best Plant in H&S Performance: Our plant, TITAN Cementara Kosjerić was awarded for reaching two years without LTI, as well as Green 360⁰ H&S Audit. Our team was represented by Mr. Borivoje Drobnjak, Technical Director, and Mr. Milovan Jakšić, H&S Manager, who accepted the recognition.
Best Proposal for Safety Improvement: Team from Zlatna Panega (Bulgaria) for "Creating antislip walkways to prevent the most common accidents for plant employees and visitors". Congratulations to our colleaguesfrom Zlatna Panega: Daniel Georgiev Tsvetkov, Anna Vasileva Acheva-Vasileva, Plamen Georgiev Velkov, Mitko Asenov Mladenov.
The 2023 H&S Awards cycle is on, and we keep on raising the bar for safety standards across SEE & TITAN Group.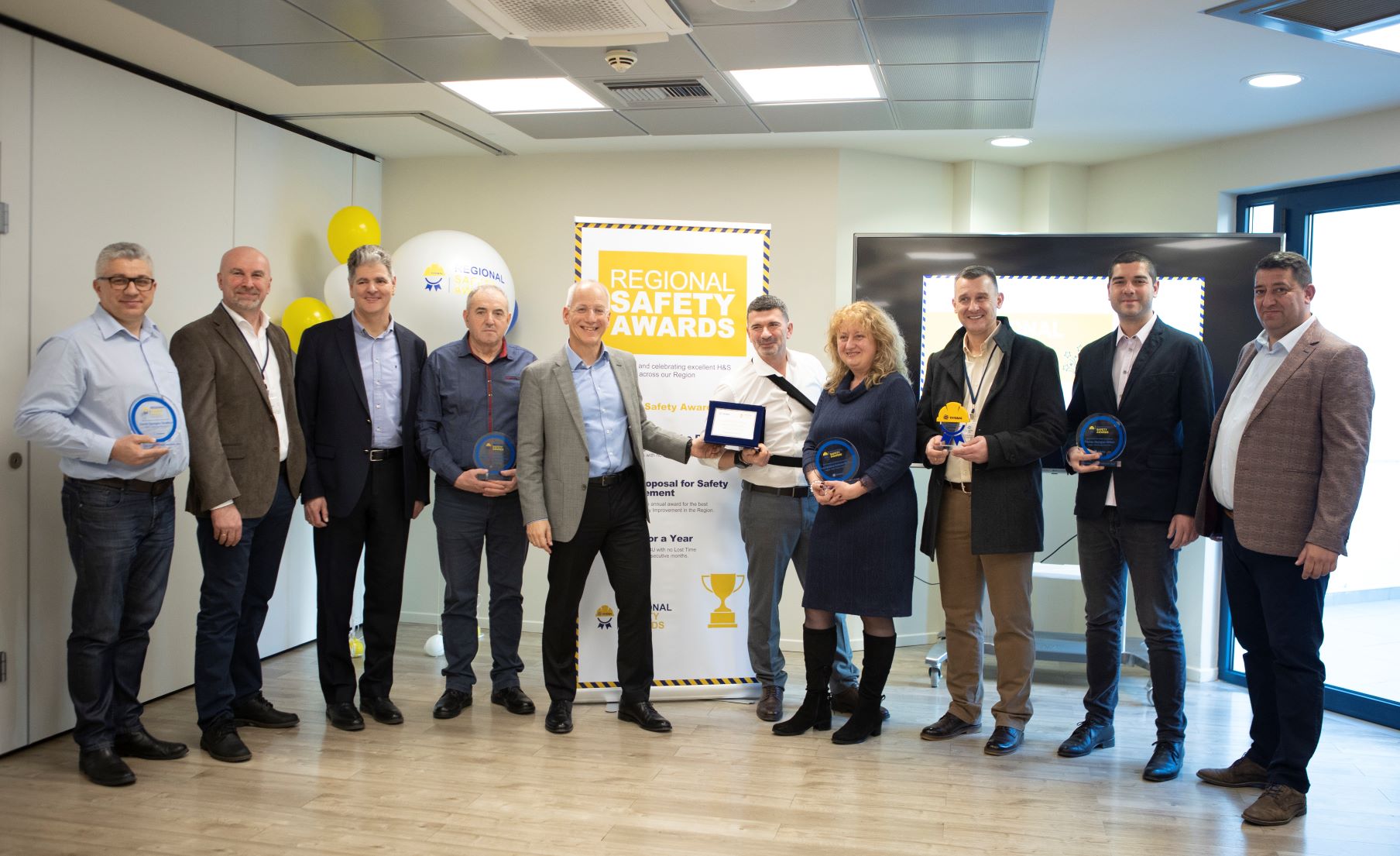 In the photo (from left to the right):
Daniel Georgiev Tsvetkov (Maintenance Manager, Zlatna Panega), Borivoje Drobnjack (Technical Director, Kosjeric), Stathis Politis (Regional Health & Safety Director SEE & Turkey), Mitko Asenov Mladenov (Kiln Production Foreman, Zlatna Panega), Yanni Paniaras (Group Executive Director Europe), Milen Stanoev (Plant Manager, Zlatna Panega), Anna Vasileva Acheva-Vasileva (Civil Engineer, Zlatna Panega), Milovan Jaksic (H&S Manager, Kosjeric), Plamen Georgiev Velkov (Investor Control Engineer, Zlatna Panega), Vasil Petkovski (H&S Manager, Zlatna Panega)