Titan Cementara Kosjeric awarded prizes to the five winning projects selected within the "For my Kosjeric" contest, at the ceremony held at the "Olympic" Hotel.  The call for submission of proposals in the field of culture, ecology and education was remained open from 15 February to 18 March. After careful review, the three-member jury chose the five projects that will receive funds for implementation.
Deputy Mayor of Kosjeric, welcomed the guests. He showed gratitude for similar activities conducted in Kosjeric and expressed support to future projects aimed to improve environment and quality of life in Kosjeric.
The five winning projects are: "EKO Kosjerić" Project, submitted by "dead town Resurrection" NGO; "Reciklomanija" Project, submitted by "Vesnik", Association of Entrepreneurs and Artists; "Phonetics Laboratory with Digital Library" Project, submitted by "Mito Igumanovic", Primary School; "Incubator", another project submitted by "dead town Resurrection" NGO, and "Innovations in Teaching" Project, submitted by Technical School Kosjeric.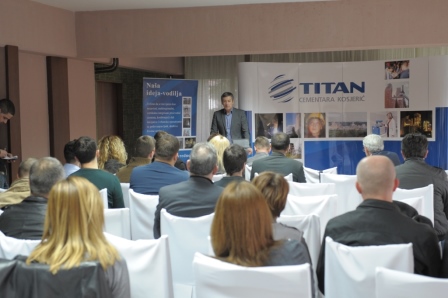 The contest successfully attracted proposals submitted by many organizations and citizens' associations registered in the Municipality of Kosjerić. Selection was done according to the following criteria: focus on solving real problems faced by the community; demonstrated benefits for citizens; compliance with core values of Titan Cementara Kosjeric and Local Development Strategy of Kosjeric Municipality.
On this occasion, Mr. Miroslav Gligorijević, general manager of Titan Cementara Kosjeric, said: "I am very proud that so many organizations responded to the contest. Our jury had a very difficult task of selecting the most successful among the candidates who had recognized the importance of the themes and the necessity of their active involvement, thus showing creativity and innovation of project proposals. This contest was aimed to improve the quality of life for citizens and encourage others to join and contribute to the creation of better living environment. I sincerely hope the winning projects will significantly contribute to achievement of this aim. I wish this contest to become our practice and tradition, and I hope that new winners will be awarded and similar activities organized, next year at this time."
The total amount for funding was €15,000. All awarded candidates will sign contract with Titan Cementara Kosjeric. Within its corporate social responsibility policy, the company is focused on building successful relations and cooperation with the local community. TCK supports the implementation of numerous social, cultural, educational and creative projects.